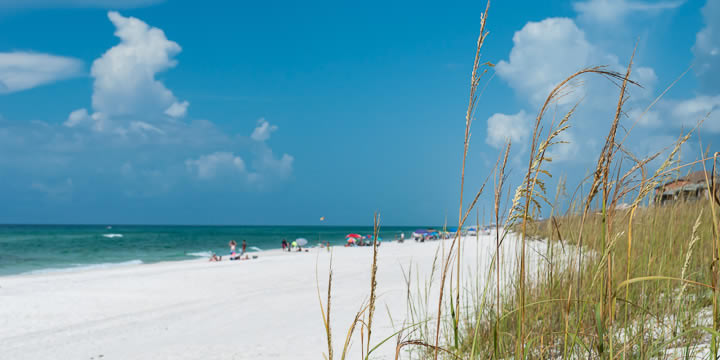 The beaches on Santa Rosa Island are getting bigger and better. Dredging boats are in place at Pensacola Beach and are currently pumping sand onto the beach from several miles out in the Gulf. The area currently being restored includes eight miles from Park East, east of Portofino to the beginning of Gulf Islands National Seashore on the Ft. Pickens side of the beach. Funding for the $16 million project is being provided by the Santa Rosa Island Authority and a grant from the state. The work is being done to shore up area beaches and to continue to protect the island from erosion.
The sand restoration at Park East will initially be wider than other areas because of the natural wave action that causes the sand there to roll to the west. As the beach erodes in other spots it will be filled by sand rolling down from Park East.
The nourishment project under way in Pensacola Beach follows the completion of erosion restoration that was done along Navarre Beach. The Navarre Beach project is said to have been completed under budget and on time, per the Santa Rosa County Commission. Rugged winter weather caused the original November start date to be delayed.
The process is done by placing a dredge off shore to vacuum sand and send it via pipes to the shore. Bulldozers and other earth moving machines push the new sand into place. The goal is to rebuild the beach back to 2006 levels. The beach berm will be increased between 100 to 200 feet and will incorporate approximately 1.6 million cubic yards of sand. Dune restoration and replanting of native plants and grasses are also part of the project.
Visitors to Pensacola Beach have already noted the improvement and express gratitude that efforts have been made to assure that no turtle nests have been harmed in this process.