Pensacola Beach Homes and Condos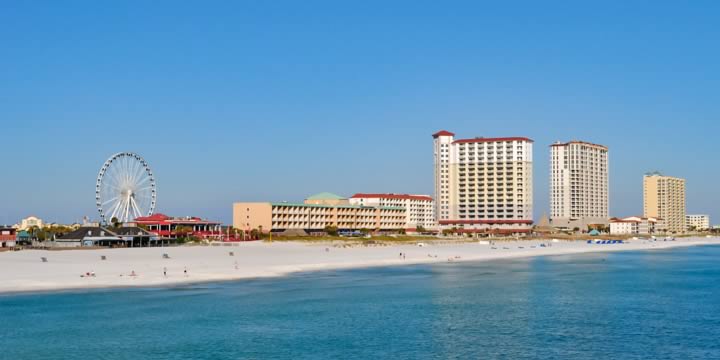 Imagine living on the Florida Gulf Coast, the stunning beaches, the relaxed lifestyle and year-round sunshine and you will understand why this destination is very attractive to visitors and full-time residents alike. Of course, by living at the beach, individuals choose to enjoy all the pleasures that Pensacola Beach has to offer year-round.
Beach Condos
Pensacola Beach is on Gulf Coast a barrier island in Escambia County. The island has access to the mainland Pensacola and Gulf Breeze via the Bob Sykes Bridge. The land belongs to the Federal Government by a 1947 deed which leases it to businesses and residents in renewable 99-year increments, making them long-term leaseholders through the Santa Rosa Island Authority, instead of property owners.
Condos are the mainstay of the real estate industry here. The five Portofino high-rise condo towers are the tallest buildings from Alabama to Tallahassee. The three best-known and favorite condos and vacation resorts are the Portofino Towers, Beach Club, and Emerald Isle. Prices of condos in Pensacola Beach, FL are between $200,000 to over $2,000,000 depending on size, location, and amenities. Vacation rental income is healthy and offers investment potential as well as having a vacation home to enjoy for the owner.
Some condominiums on Pensacola Beach do not allow short-term rentals or have HOA restrictions regarding rentals. This is important information we share with our clients to help them make the right decision.
Beach Homes
Buyers that are interested in finding residential real estate will see unique and distinctive styles and types of single-family homes for sale along with community amenities and events that are particular to this locale. Waterfront homes and beach houses range in price from $300,000 to the millions. Two very popular subdivisions in Pensacola Beach are Villa Segunda and Villa Primera. Villa Sabine surrounds Little Sabine Bay. Santa Rosa Villas and Calle Hermosa are to the east, and to the west are Lafitte Cove and Deluna Point. There are beautiful luxury communities between the sound and the gulf, public, gated and private.
When looking for a beachfront house or condo, it is important to give us a call and tell us what you have in mind. The Realtors at Emerald Coast Realty have the knowledge, experience, and tools that help buyers find the perfect home on Pensacola Beach.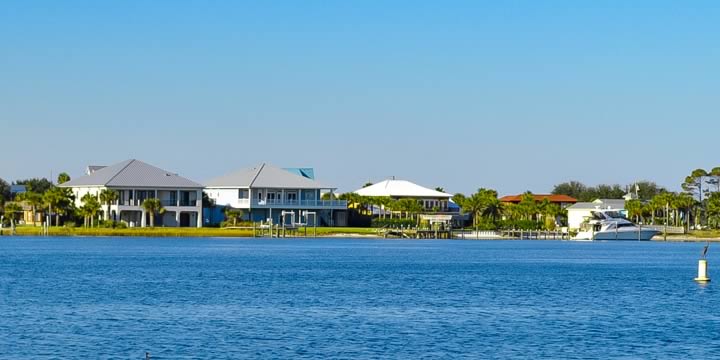 About Pensacola Beach
Pensacola Beach occupies about nine miles of the Florida Gulf Coast at the western end of Santa Rosa Island. This is one of the most picturesque and visited beaches in Florida. Located at the west end of the beach is the historic Fort Pickens. This is part of the Gulf Islands National Seashore Park system.
Vacationers find hotels, beach houses, restaurants, bars and recreation rentals to enjoy their stay. Relax in a beach chair with an umbrella that is available on the beach for a nominal fee.
Pensacola is a sports enthusiast's dream with fishing, Jet skiing, parasailing, surfing, swimming, charter boat fishing, sailing, motor boating, camping, diving, and hiking. The entire family can spend time together going to the small beach shops, boutiques, galleries and parks all in a friendly casual atmosphere.
Buying on Pensacola Beach?
If you are interested in buying a home or condo on the beach, contact Emerald Coast Realty and an agent will promptly follow up with you to provide particulars on any property or arrange a viewing, 850-437-5618.
6

Beds

2.0

Baths

770294

MLS

Santa Rosa Villas

Bldg.
Great price for this beautiful furnished two bedroom tower residence. This 6th floor level feels like you are right on the bay. Enjoy looking over the range point area fa...
2

Beds

3.0

Baths

524677

MLS

Portofino

Bldg.
Enjoy the beautiful views of the Gulf of Mexico and the Santa Rosa sound from the balcony of this 12th floor Portofino Tower Residence. This sky home is fully equipped wi...
2

Beds

3.0

Baths

524601

MLS

Portofino

Bldg.
This beautiful fully furnished 3 bedroom unit offers amazing views from every room. This unit has tile throughout, granite counter tops, sheet rock ceiling, crown moldin...
3

Beds

4

Baths

783706

MLS

Portofino

Bldg.
Come and view your new home, a piece of tropical paradise! This townhome, on the gorgeous Pensacola Beach, is move in ready and waiting for its new family or investor. ...
3

Beds

3.0

Baths

524400

MLS

Bahia Paz

Bldg.
This tower residence is beautifully decorated and well taken care of. This condo is decorated to capture the beach atmosphere. Freshly painted with colors of the Gulf of ...
2

Beds

3.0

Baths

524394

MLS

Portofino

Bldg.
Beautiful 3 bedroom 3.5 bathroom tower residence with UNOBSTRUCTED WESTERN VIEW of the Gulf of Mexico and the Bay. Currently the ONLY three bedroom at Portofino with this...
3

Beds

4.0

Baths

524352

MLS

Portofino

Bldg.
Fabulous opportunity to own a spectacular Portofino Island Resort Tower Residence. Take the time to reward yourself with this exquisite, meticulously decorated condo. Loa...
2

Beds

3

Baths

783312

MLS

Portofino

Bldg.
Beautifully furnished Penthouse with Breath Taking Views !! Located in Portofino Island Resorts, one of the most sought after vacation spots on the Gulf Coast. Resort ...
2

Beds

3.0

Baths

524134

MLS

Portofino

Bldg.
LITTLE SABINE BAY with water views front and back, this little gem is the perfect Pensacola Beach getaway. You'll be amazed at the well-designed layout featuring all the ...
2

Beds

3.0

Baths

523555

MLS

Villa Sabine Townhouses

Bldg.
Live the Lifestyle at beautiful Portofino Resort and Spa. This furnished 3 bedroom condo includes features that no other condo offers. **Armor Screen Hurricane Protecti...
3

Beds

4.0

Baths

523544

MLS

Portofino

Bldg.
This is one Hot Deal on a "Like New" 7th Floor 3Bdrm -3.5B Gulf Side Portofino Condo @ Pensacola Beach. This is a Lightly Used Corporate Unit purchased in 2015 for client...
3

Beds

4.0

Baths

523125

MLS

Portofino

Bldg.