Pensacola Beach Homes and Condos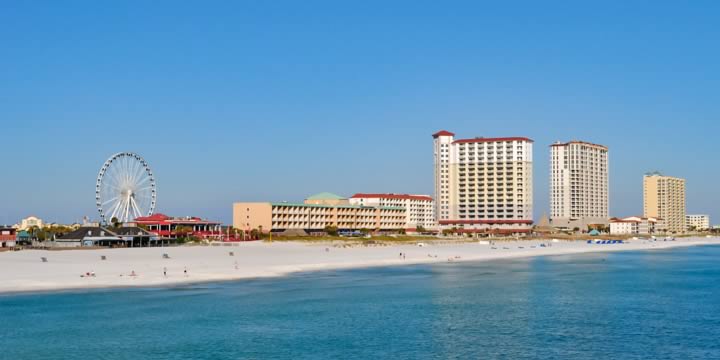 Imagine living on the Florida Gulf Coast, the stunning beaches, the relaxed lifestyle and year-round sunshine and you will understand why this destination is very attractive to visitors and full-time residents alike. Of course, by living at the beach, individuals choose to enjoy all the pleasures that Pensacola Beach has to offer year-round.
Beach Condos
Pensacola Beach is on Gulf Coast a barrier island in Escambia County. The island has access to the mainland Pensacola and Gulf Breeze via the Bob Sykes Bridge. The land belongs to the Federal Government by a 1947 deed which leases it to businesses and residents in renewable 99-year increments, making them long-term leaseholders through the Santa Rosa Island Authority, instead of property owners.
Condos are the mainstay of the real estate industry here. The five Portofino high-rise condo towers are the tallest buildings from Alabama to Tallahassee. The three best-known and favorite condos and vacation resorts are the Portofino Towers, Beach Club, and Emerald Isle. Prices of condos in Pensacola Beach, FL are between $200,000 to over $2,000,000 depending on size, location, and amenities. Vacation rental income is healthy and offers investment potential as well as having a vacation home to enjoy for the owner.
Beach Homes
Buyers that are interested in finding residential real estate will see unique and distinctive styles and types of single-family homes for sale along with community amenities and events that are particular to this locale. Waterfront homes and beach houses range in price from $300,000 to the millions. Two very popular subdivisions in Pensacola Beach are Villa Segunda and Villa Primera. Villa Sabine surrounds Little Sabine Bay. Santa Rosa Villas and Calle Hermosa are to the east, and to the west are Lafitte Cove and Deluna Point. There are beautiful luxury communities between the sound and the gulf, public, gated and private.
When looking for a beachfront house or condo, it is important to give us a call and tell us what you have in mind. The Realtors at Emerald Coast Realty have the knowledge, experience, and tools that help buyers find the perfect home on Pensacola Beach.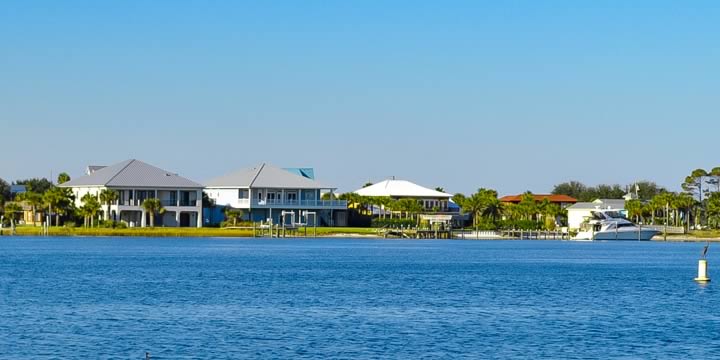 About Pensacola Beach
Pensacola Beach occupies about nine miles of the Florida Gulf Coast at the western end of Santa Rosa Island. This is one of the most picturesque and visited beaches in Florida. Located at the west end of the beach is the historic Fort Pickens. This is part of the Gulf Islands National Seashore Park system.
Vacationers find hotels, beach houses, restaurants, bars and recreation rentals to enjoy their stay. Relax in a beach chair with an umbrella that is available on the beach for a nominal fee.
Pensacola is a sports enthusiast's dream with fishing, Jet skiing, parasailing, surfing, swimming, charter boat fishing, sailing, motor boating, camping, diving, and hiking. The entire family can spend time together going to the small beach shops, boutiques, galleries and parks all in a friendly casual atmosphere.
Buying on Pensacola Beach?
If you are interested in buying a home or condo on the beach, contact Emerald Coast Realty and an agent will promptly follow up with you to provide particulars on any property or arrange a viewing, 850-437-5618.
Own the lifestyle at beautiful Portofino! Gorgeous eastward Sound and Gulf views will hold you spellbound. With breathtaking eastern views of the island, Gulf of Mexico ...
2

Beds

3.0

Baths

518102

MLS

PORTOFINO

Bldg.
Here is your opportunity to snap up a two bedroom condo with wrap around balcony and fabulous views in popular Tristan Towers. This complex is ideally located just minute...
2

Beds

2.0

Baths

517993

MLS

TRISTAN TOWERS

Bldg.
One of the best locations on Pensacola Beach. Little Sabine Bay waterfront property with worlds whitest beaches right across the street. Restaurants , bars, Pensacola Bea...
1

Beds

1.0

Baths

517801

MLS

SABINE YACHT & R/C

Bldg.
Beautiful Gulf Front condo that has spectacular views of the Gulf of Mexico and the Bay looking East down the shoreline. Very pristine condo that the owner's never rented...
2

Beds

3.0

Baths

517546

MLS

PORTOFINO

Bldg.
Palm Beach Club is a small, gated community at the very end of the beach abutting the National Seashore and the county recreational area offering protected views for a li...
3

Beds

3.0

Baths

517415

MLS

PALM BEACH CLUB

Bldg.
Seventh floor "Heaven"...Unit 702 is there to sooth your soul...Relax on your Balcony over looking the beauty of the Intracoastal Waterway, Sand Dunes, Ponds, Flora and F...
2

Beds

3.0

Baths

517340

MLS

PORTOFINO

Bldg.
Beautiful 3 bedroom 3.5 bath exclusive unit at Portofino Luxury Tower and SPA. This unit has never been rented, features include, tile in living/dining, granite kitchen ...
3

Beds

4.0

Baths

516873

MLS

PORTOFINO

Bldg.
This tower residence is beautifully decorated and well taken care of. This condo is decorated to capture the beach atmosphere. Freshly painted with colors of the Gulf of...
2

Beds

3.0

Baths

516483

MLS

PORTOFINO

Bldg.
Spacious home with a beautiful community pool, boat dock and a private beach on Santa Rosa Sound. The HOA restricts unit rentals to a minimum of 6 months so you'll be abl...
4

Beds

4.0

Baths

516400

MLS

BAHIA PAZ

Bldg.
Beautiful three bedroom unit offers many upgrades including tile throughout, granite counter tops, crown molding, sheet rock ceiling and outdoor cooking center. Enjoy thi...
3

Beds

4.0

Baths

516287

MLS

PORTOFINO

Bldg.
Beautiful furnished 3-bedroom, 3 1/2 bath unit with spectacular wrap-around views to the Gulf of Mexico and Santa Rosa Sound looking West down the coast line. Wrap aroun...
3

Beds

4.0

Baths

515462

MLS

PORTOFINO

Bldg.
Coastal Relaxation at it's Finest!!! Interiors by "Duh"...say No More!!! Soothing Gray-Blue hues and eclectic furnishing make your living quarters inviting. Literally t...
2

Beds

3.0

Baths

514555

MLS

PORTOFINO

Bldg.