Condos for Sale at Mirabella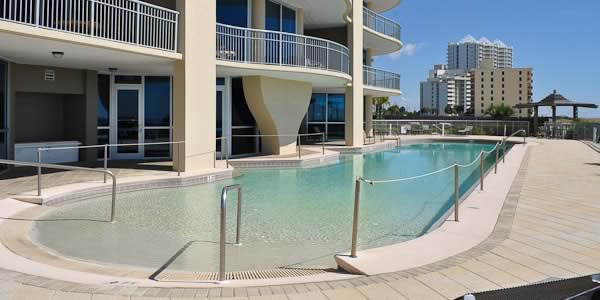 Mirabella is a low-density luxury condominium situated directly on the beach in Perdido Key, FL. This 18-floor condominium has two spacious four bedroom and four bath floor plans available. Mirabella is a "rental restricted" building with only three units per floor, providing the discriminating buyer a quiet and relaxed beachfront haven.
Amenities abound at Mirabella starting with 400-feet of exclusive waterfront, an outdoor pool and heated indoor pool, hot tub, sauna, fitness facility, steam room, library and community room. The Lost Key Golf Course and Holiday Harbor Marina are mere minutes away and easily accessible via River Road. The uniquely over-sized balconies afford panoramic views of the Key, the Gulf of Mexico, Old River and Ono Island as well as the golf course and harbor.
There are seventeen residential floors with three units to a floor, for a total of fifty-one units. The condos here are in such high demand that only a couple of these luxury units are available for sale at this time as you can see listed below.
Call 850-912-9826 to make an appointment for a tour of any of the condominiums at Mirabella.