Shalimar FL Real Estate: Homes for sale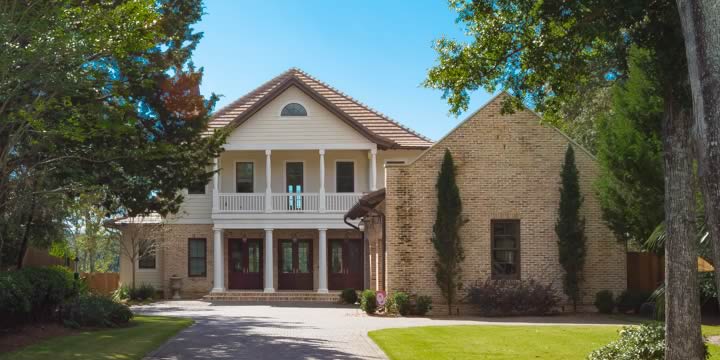 The town of Shalimar began in 1931 as an idea for what we might now call a "master-planned community" called Port Dixie. Dependent on dredging the Destin East Pass and a railroad, the grandiose venture fell through when neither happened. Plans for a real estate company, port, steamship lines, downtown, and a nightclub ended up nine years later as a housing project developed for military officers at nearby Eglin Air Force Base. The entire border of the town is along the waterfront, with Garnier Bayou all along the west side, and Choctawhatchee Bay to the south and east of the peninsula. Much of the unincorporated area around Shalimar is still called Port Dixie.
The development was named Shalimar, meaning "by the beautiful water" and became quite popular for military families. Eventually, a then-famous casino opened in the town, and Shalimar incorporated in 1947 to satisfy a Florida law against unincorporated casinos. Later the Meigs family saw fit to donate land for schools, a stadium, and a winery. The Clifford's son now owns a commercial development firm called Shalimar Ventures, which is still adding to the city's retail and commercial conveniences. Aside from being a community for the Air Force personnel, Shalimar is a popular retirement community that continues to grow.
Shalimar boasts three excellent schools for its residents, Shalimar Elementary, Meigs Middle School, and Choctawhatchee Senior High School. There are two nice parks, Cherokee and Meigs Parks, sidewalks, streetlights, and a friendly police department. A new Town Hall was recently built and is available for weddings, parties, and other functions.
The most affordable homes in Shalimar are several blocks from the water in the heart of the city. Shalimar Oaks offers brick ranch homes built in the early 2000's in a quiet neighborhood. Shalimar Place began development in the early 90's with traditional style brick homes and similar prices.
To the east of the peninsula is Lake Lorraine with more neighborhoods. It is unincorporated but uses a Shalimar Postal code. Golfers will love Shalimar Pointe, located on the 18-hole Dye-designed golf course here. It offers large estate homes with mature trees, bay-front homes, and views of the greens.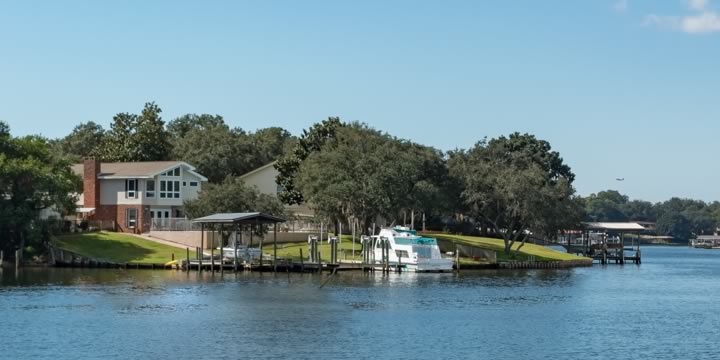 To the north, you find Eglin Air Force Base and another peninsula that shares the Shalimar postal address. The Poquito Bayou area includes some of the finest luxury homes in NW Florida. Million dollar waterfront homes with amazing pools, marble floors, and private docks will satisfy the most discerning buyer.
The southeastern corner of Shalimar's land body is Black Pointe Island, where you will find multi-million dollar homes surrounded by the Bay and golf course. This neighborhood is part of what is still called Port Dixie, and some of the homes have acreage.
If you love the waterfront communities, then Shalimar Florida is one of the best places to look to purchase your next house. It has a rich history and aims to protect its beautiful and fashionable communities. Call us for a tour of this wonderful city and to see available homes in Shalimar, Lake Lorraine, and Poquito Bayou.