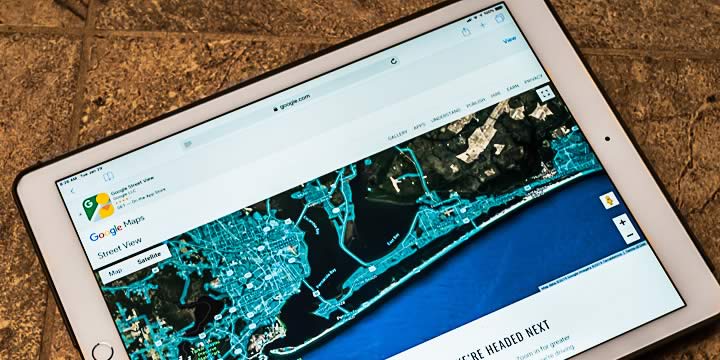 If you are looking for a home, or if you are an investor looking to buy real estate, you may have used Google Maps to look up an address or get directions to a location. However, you may not know that Google Maps can do a lot more than merely locate an address. You can use its features to make your life much easier.
Street View is a useful feature for checking out properties online. If you are interested in a condominium, but the real estate MLS has not included any external views for the listing, it can really help. Spend a minute searching Google Maps to see the street view of the property's frontage and other houses on the street. The interior may have recently been renovated, but if the yard and entrance are not completed, you might not bother to arrange a visit. To do this, of course, you need the address. Street view also indicates the month, and year the images were acquired and many times offers multiple time frames for a historical perspective.
Street View also gives you a feel for the area. For instance, check out the state of repair of houses; are they well maintained? In a somewhat run-down street, do you see three or four houses that have clearly been recently renovated? Even noting the kinds of cars parked on the street and driveways can give you a feeling for the average income level and type of owner which lives there.
Back to the map view, you can check out the area's amenities. Are there local restaurants and bars or cafes? Where are the nearest schools? Is there a university nearby? You can also see parks, boat launches, theaters, art galleries, and museums - proximity to such sights is useful when planning a purchase. You could do all this by walking around - but it is so much quicker and easier to use Google Maps first to narrow down your options.
Switch to satellite view next and zoom in close. You cannot see every detail, but you can get a feel for some important real estate details, such as the structure of roofs. In particular, you can often see which properties in an old district have been re-roofed recently in new materials. Check the backyards for fencing, trees, a pool or parking. With a condominium, you can see proximity to the beach and other condo complexes. Google Maps is a useful tool for finding out exactly what lies on the outside side of a house or condominium.
You can also save data on Google Maps; this is useful when you are planning to see several different properties, which may be for sale. However, you can add other data too; for instance, you could create a map showing the price per square foot for properties that come up for sale. In many cities, you will find mash-ups that show other data on Google Maps, such as crime rates and average income. If you are investing in a specific town, it can help you pin down the best and worst areas; if you are moving to a suburbs, it can help you find the right areas to look for a home.
Google Maps will not tell you whether the house you have found is a bargain, but it can make your property search much easier.
Article by Emerald Coast Realty