We have just past the halfway point of the year, which is an excellent time to evaluate real estate sales for the first half of 2017. Comparing the first six months sales numbers of 2017 for the general Pensacola Area* of previous years of residential (homes and condos) sales shows how well our market is doing.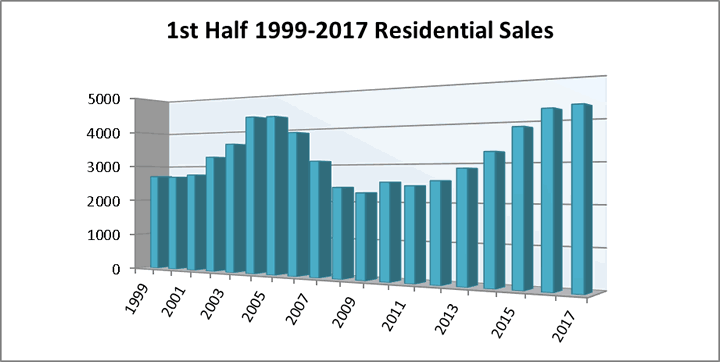 While 2017 is shaping up to be a very good year, the number of properties sold in 2017 is only slightly greater 2016. This small increase is due in large measure due to the decrease in the number of properties for sale - our inventory is down by 14% from this time last year. The reduction of local inventory impacts home buyers ability to find the house or condo for the right price.
Price Appreciation
The price you will pay to acquire a house or condominium this year has also increased over the last seven years. The average price paid for a residential property in the Greater Pensacola Area has increased by 12.5% during the past twelve months and has increased 39% since the bottom of the market in 2010. This appreciation has been gradual and continued year after year as seen in the graph above.
Second-Half 2017 Forecast
The second-half of 2017 is expected to remain strong as the number of days on the market will shrink and the inventory of homes and condos continues to diminish. Interest rates are expected to remain low posing little to no risk to the real estate market. The factors above combine to produce a seller's market.
Given these strong real estate market conditions, buyers should prepare in anticipation of making a winning offer when the right property becomes available. Consider early on whether you will buy with cash or financing. If you plan to use financing, get pre-qualified and find any hidden credit issues that may exist before you make an offer.
Sellers are less likely to grant contingencies or concessions when multiple offers presented. Remember; preparation pays off for buyers too.
*Pensacola Area - Refers to all cities and communities collectively in Santa Rosa and Escambia Counties.