Pensacola Market Home Sales Data
The Pensacola Florida residential real estate market has undergone many changes over the past nineteen years. One of the best ways to understand what has happened and where we are today is to analyze monthly home sales data and trends illustrated by the resulting charts.
December 2022 Real Estate Sales Summary:
Sales in the Greater Pensacola and beach areas of condos and homes remain in record territory as seen in the monthly listing sales from the Pensacola MLS on the chart below.
There were 710 residential sales in December 2022. This is down from previous month, and down year-over-year. Last year there were 1077 sales in December.
Inventory of homes and condos has increased but is still low, and the average residential price this month is at $352,619.
The real estate market is still brisk, but sales are lower that last year. The current market is still considered a "seller's market."
Recently Sold Homes in Pensacola
See detailed information about the most recently sold homes in Pensacola and Pensacola Beach to understand best what today's real estate market is doing. By looking at the charts below, you can see historically what the market here is doing. By looking at recently sold prices, you can see what is happening right now.
Real Estate Market Trends:
The chart below represents monthly sales of residential homes January 2003 through December 2022 Pensacola real estate. The horizontal axis is the month, and the vertical axis is the number of monthly home sales.
The current sales that we see in Pensacola have exceeded "normal" market conditions but the market is beginning to slow in the second half of 2022. People are buying and selling homes in the Pensacola area at levels that are considered solid seller's market.
The chart about is the change in year-over-year residential unit sales per month. The number of unit sales has decreased 34% in December 2022 compared to December 2021.
There are good real estate values available on a case-by-case basis, but overall prices are unchanged compared to last year. Good values still sell quickly while overpriced properties can stay on the market for several months.
During a period of normal Market Conditions, people buy and sell for reasons such as; job transfers, upsizing, downsizing and new home buyers entering the market for the first time. During this period, there are more investors that are looking for and finding values.
The Pensacola area December monthly residential average sales price decreased to $352,619 from $358,889 in November.
The Pensacola monthly average residential sales price about flat for 2022. Comparing December 2021 to December 2022, there is a 0.1% rate of average appreciation in the Greater Pensacola area. The overall average price appreciation rate over the past five years is 12.1%/year!
The inventory of listed homes in the greater Pensacola and Destin markets in a "seller's market." The current inventory of available homes and condos for sale has come up but is low at 2000 residential units in the Pensacola MLS.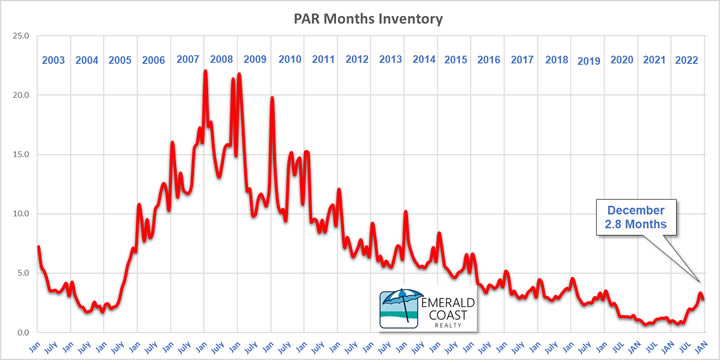 The number of months inventory is a good indicator of the current real estate market condition, that is, is it a buyer's, seller's, or neutral real estate market. Under four months is considered to be a seller's market. The December number of months inventory is 2.8 months, and this is still low. The number of months is the time it would take to sell the current inventory of real estate listings.
The chart above provides information regarding how long homes take to sell on average; this measurement is referred to as "number of days on the market." The smaller the number means homes are selling quickly. The days on the market for December 2022 increased to 41 days, this is low for the Pensacola market as the chart above illustrates.
Real Estate Sales by Property Type and Year for 1999-2022
Residential Real Estate Sales by Year
The chart above presents annual residential sales from 1999-2022 from the Pensacola MLS. As you can see, 2021 was an extraordinary year exceeding 2020 sales by 1,764 and 2022 by 1034 units sold.
Condominium Sales by Year
The chart above presents annual condo sales from 1999-2022 from the Pensacola MLS. 2021 was an exceptional year for condo sales in the Pensacola area. The average number of sales since 2013 has been near 600 units. In 2021, 828 units blew this average away by 38% more sales. In 2022 there were 664 units sold.
Condominium Market Reports
Take the time to see everything these detailed real estate reports can provide to property buyers and sellers alike.
Pensacola Beach Condo Market Reports -|- Perdido Key Condo Market Reports