No current listings, please check back later.
Sans Souci Condo Sales Pensacola Beach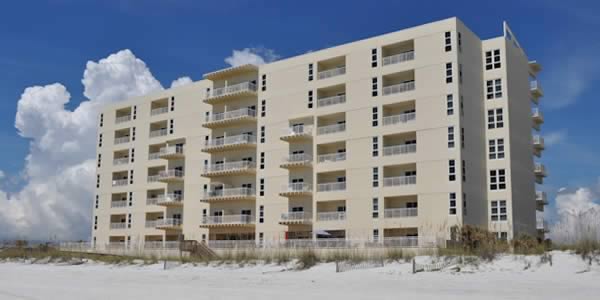 One of the best rental properties in Pensacola Beach, Sans Souci, has been the destination of choice for beachcombers year after year. Located at 999 Fort Pickens Road and is directly on the Gulf. This seven-story building has one, two, and three-bedroom condos available in a variety of floor plans.
Across the street is Peg Leg Pete's, one of the most visited eating establishments in Pensacola Beach. This restaurant serves lunch and dinner seven days a week and is kid-friendly with an enclosed playground to keep the little ones busy until the food arrives. At night, this establishment features live music to entertain a more mature audience.
Sans Souci is less than a mile away from the core shopping and entertainment section of Pensacola Beach and is walking distance to the Pensacola Beach Fishing Pier. The Pensacola Beach fishing pier is open seven days a week, 24 hours a day, and includes a gift shop and oyster bar. The pier is one of the longest on the Gulf of Mexico and measures 1,471 feet long.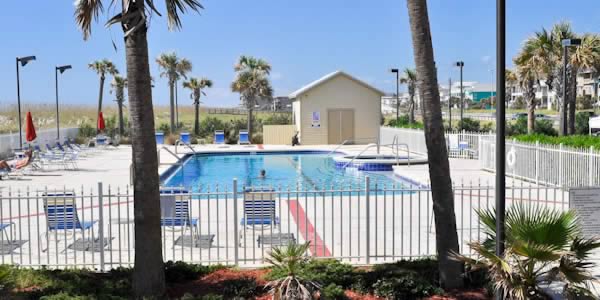 At times do you prefer a quiet time and enjoy hanging around the home? Sans Souci is a premier location for watching sunrises and sunsets. Which leaves the rest of the day to lounge at the gulf side pool or sink your toes in the sand while you watch the dolphins play in your backyard. Call: 850-912-9826 for more information.
Use the Sans Souci Market Report to view current listings, pending sales and recent purchases at Sans Souci Condominiums. This realty report enables owners and prospective buyers to better understand the current market value of the condominiums here.