Townhomes for Sale in San De Luna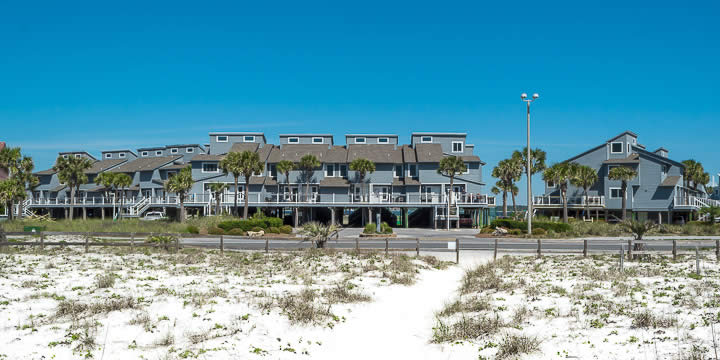 The San De Luna resort in Pensacola Beach is located along the west side of Santa Rosa Island, but not far from the Quietwater Boardwalk, the pier, and within walking distance of Park West, which offers covered shelters, outdoor cooking facilities, and a public beach. San De Luna faces the Pensacola Bay, with its calm waters and small boat access. Across the street from the Gulf Beach, residents have the best of both worlds. These townhomes are in close proximity to shopping, dining, and the Pensacola nightlife.
Originally built in 1983, the exterior of these two-story townhomes has been renovated with Hardi-Plank siding. There are only 32 units in the complex, so finding a home for sale here may require a wait. Parking is ground level with the first floor of the living area up a set of stairs opening to a beautiful huge balcony that may overlook the pool, tennis courts, or water. The units have been remodeled with all the luxury interiors such as tile flooring, granite countertops, stainless appliances, and a spiral staircase that leads to the bedrooms.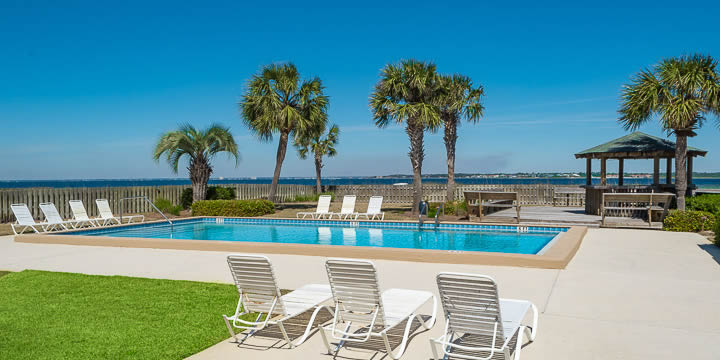 Community amenities include a gorgeous large pool, tennis courts, outdoor grills, and tropical landscaping. The water on the bayside is calm and the little beach there is perfect for families or just relaxing. The Gulf beach is just steps away, or residents can enjoy the nearby park for shelling or shade. This is a very popular community for vacation rentals as well, so if you are looking for rental income, it has a great history. All the units are two-bedroom two-bath townhouses and are affordably priced.
If you are looking for a less crowded, peaceful community in the perfect location, it is hard to find a better one. The problem is how rare it will be to find one available. You will need to get on a waiting list and let us notify you when one of these extraordinary San De Luna townhomes is listed for sale. We can take you on a tour and let you know immediately when you can buy one, call 850-912-9826.
The San De Luna Market Report is an effective way to evaluate current listings, pending sales, and purchases over the past 12 months. Potential sellers can utilize this report to assist them in establishing the current market value of their townhome.