Port Side Villas Condos for Sale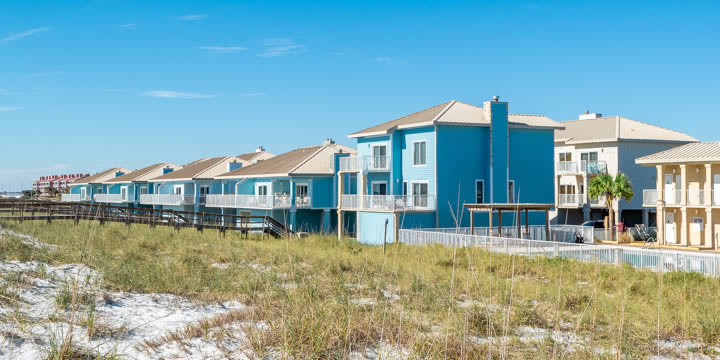 Some condominiums on Pensacola Beach are so perfect and popular that you seldom see a unit listed for sale. The Port Side Villas are a perfect example. Located on the direct gulf/beachfront, this 36 unit complex of luxury beach homes is not often an option to buy, and sells so quickly you need to be on a waiting list to catch one.
Port Side Villas is the last gulf front complex at the end of Fort Pickens Rd, which means extra privacy and a near-deserted beach. Isn't that what every beach-goer wishes for? Look no further for your perfect and luxuriously large, maintenance-free beach home. Two rows of buildings provide either a direct gulf front view in a two-story setting, or ocean views from the third floor of the second-row buildings. A gorgeous pool sits in the center for those who would rather cool off in pool water and walk on the beach afterward.
The condominiums are "Townhouse style", with a two-car garage and entry on the ground floor. The living room, kitchen, bedrooms, and several bathrooms are on the second floor, and the three-story models have a master suite bedroom with a large private balcony on the top floor. There are both two, and three-bedroom units that have vaulted ceilings, oversized closets, granite countertops, and fireplaces add to the luxury upgrades.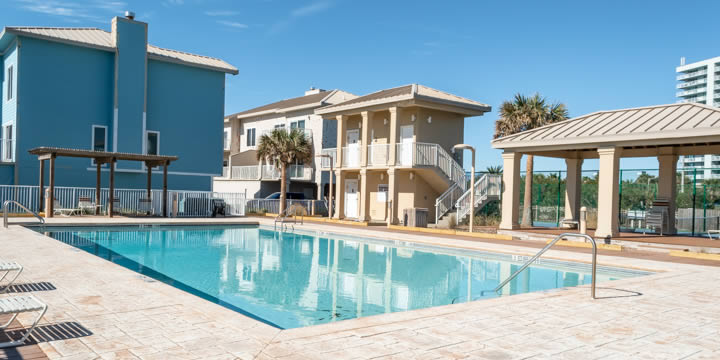 The entire complex was completely rebuilt after Hurricane Ivan in 2008, and are now designed to last, with rebar reinforced pilings, grade beams, impact-rated windows, and more. The premium construction reduces insurance and maintenance costs, and the HOA fees are lower than most because of the savings. Get your name on our list for the Port Side Villas condos so when one becomes available, you can be quick enough to see and grab it! Call us today, 850-912-9826.