Homes for Sale Near Scenic Highway in Pensacola
Homes on the iconic bluffs of Scenic Highway are on the highest point along the Florida coastline. Moss draped oak trees, and spectacular views of Escambia Bay are the backbone of the communities here. The eleven mile stretch of Scenic Highway runs along the eastern perimeter of both the city of Pensacola and Escambia County, extending from Highway 90 to Bayou Texar.
Pensacola is chock full of history as the abundance of parks reflect. Chimney Park, located at the intersection of Scenic Highway and Langley is no exception. This park preserves the remains of a brick chimney that was once part of a steam power plant destroyed by the Confederate army when they evacuated Pensacola in 1862. Exchange Park on southern Scenic Highway has thirteen acres of sports facilities as well as picnic tables and covered shelters. Programs at this park include flag football, softball leagues, co-ed kickball and softball for adults. You can check them out on Facebook and watch history in the making.
These neighborhoods provide easy access to Cordova Mall and a multitude of other shopping venues. Commercial and retail businesses are abundant here, and Pensacola is attracting additional sales franchises into our market. The main campus of Pensacola State College is conveniently near Sacred Heart Hospital and Pensacola International Airport.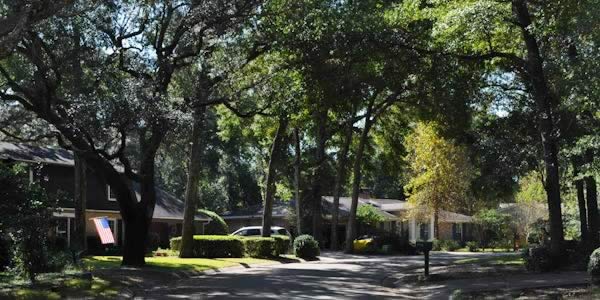 As you might imagine, eleven miles encompasses many homes and a variety of subdivisions. In this area of town, buyers find the waterfront homes on both the bay and on Bayou Texar in neighborhoods that offer spectacular views of the waterways, all these communities possess a distinctive southern charm. Call: 850-912-9826