Pensacola Area Home Builders
With the real estate market booming, more buyers than ever are looking to build a new home to their own specifications and needs. We have some excellent home builders in the area, and are often asked for recommendations. Here are some that we are familiar with that have good reputations and reviews: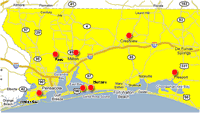 Builder has subdivisions in Navarre, Crestview, Holley by the Sea, Milton, Pace. Gulf Breeze, Freeport, and Pensacola. New Homes range in price from the low $100,000s to mid- $300,000s Henry Homes builds a quality home at an affordable price, These newly constructed homes are located in neighborhoods that offer something for everyone. These homes are convenient to shopping, excellent schools, and recreation. Henry Homes encourages buyers to shop around and compare.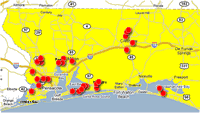 Subdivisions in Pensacola, Navarre, Holley by the Sea, Crestview and Destin. Prices Range From The $100,000's Adams Homes targets first time homebuyers, families looking to scale down and families looking to move to larger homes. The company's goal is to provide affordable homes with style. We can help you find Adams Homes in Florida.
D.R. Horton America's Home Builder
Subdivisions in Perdido Key, Navarre, Mary Esther, Destin, Santa Rosa Beach, Crestview, and Freeport. Prices Range from the upper $100,000's to the $600,000's. D.R. Horton is the largest homebuilder in the U.S. and specializes in the construction and sale of high-quality, single-family detached homes.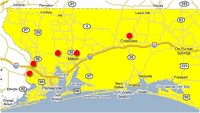 Subdivisions in Crestview, Milton, Pace and Pensacola prices available upon request. Thomas Homes is currently building in 7 locations including Northwest Pensacola, Cantonment, Pace, Milton, and Crestview. Most of their subdivisions will accommodate side entry garages and a large enough lot to add a pool backyard. Thomas Homes will also build on your lot.
Celebrity Home Builders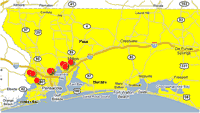 Subdivisions in Pensacola, Pace and Milton Florida, prices available upon request. Celebrity Home Builders construct quality brick homes in Pensacola, Pace, and Milton. Celebrity is a frequent first ribbon winner in the annual NW Florida Home Builders Association Parade of Homes. Celebrity believes that a comparison of features with other builders will prove the overall value of purchasing a home from Celebrity Home Builders.
Holiday Builders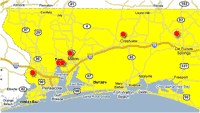 Subdivisions in DeFuniak Springs, Crestview, Milton, Pace, and Pensacola. Finished home prices are from $140,000 to $200,000's. Holiday Builders started in Palm Bay, Florida, and now has locations in Florida and other States in the southern US. Holiday Builders is 100% employee-owned, so you will always talk to the owner. Holiday is building throughout NW Florida and offers home price from the $140,000s to the $200,000s.
Paragon Custom Home Group
Subdivisions located in Milton, Pace and Pensacola from $140,000 to $500,000's. Paragon Custom Home Builders feature brick homes in Santa Rosa and Escambia counties. Paragon Custom Home Group will also build your new home on your lot now. Prices range from the 140K range all the way up to the low 500,000s.
Mitchell Homes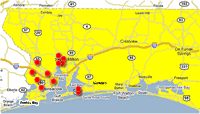 Subdivisions in Crestview, Milton, Pace and Pensacola, prices available upon request. Mitchell Homes is the home building division of the Mitchell Company. Mitchell Homes found in communities throughout Pensacola, Mobile, and Orlando. Mitchell provides affordable homes of exceptional value.
Classic Home Builders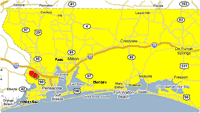 Located in Pensacola, Classic Home Builders offer stucco or brick homes in contemporary designs. This builder primarily works in Pensacola. Classic blend unique architecture with a special eye for detail and professional interior design.
Lennar Home Builders
Lennar has been building homes since 1954, and boasts over a million built in some of the most desirable cities in the nation. New to the Pensacola area, Lennar is building townhomes, villas, and single family homes in Lost Key Resort. Known for its "Everything included" plans that standardizes typically optional features, the company has now teamed up with Amazon, who can set up its new homes as "smart homes", controlled by you from anywhere. From thermostat control, lights, and security to your morning cup of java, you'll have a hands-free lifestyle that in unbelievable.