Pensacola Beach Homes and Condos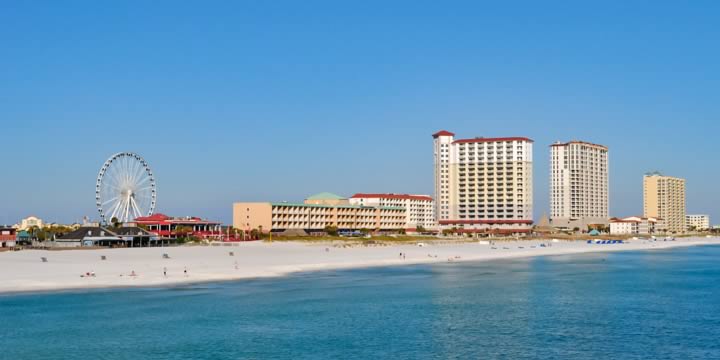 Imagine living on the Florida Gulf Coast, the stunning beaches, the relaxed lifestyle and year-round sunshine and you will understand why this destination is very attractive to visitors and full-time residents alike. Of course, by living at the beach, individuals choose to enjoy all the pleasures that Pensacola Beach has to offer year-round.
Beach Condos
Pensacola Beach is on Gulf Coast a barrier island in Escambia County. The island has access to the mainland Pensacola and Gulf Breeze via the Bob Sykes Bridge. The land belongs to the Federal Government by a 1947 deed which leases it to businesses and residents in renewable 99-year increments, making them long-term leaseholders through the Santa Rosa Island Authority, instead of property owners.
Condos are the mainstay of the real estate industry here. The five Portofino high-rise condo towers are the tallest buildings from Alabama to Tallahassee. The three best-known and favorite condos and vacation resorts are the Portofino Towers, Beach Club, and Emerald Isle. Prices of condos in Pensacola Beach, FL are between $200,000 to over $2,000,000 depending on size, location, and amenities. Vacation rental income is healthy and offers investment potential as well as having a vacation home to enjoy for the owner.
Some condominiums on Pensacola Beach do not allow short-term rentals or have HOA restrictions regarding rentals. This is important information we share with our clients to help them make the right decision.
Beach Homes
Buyers that are interested in finding residential real estate will see unique and distinctive styles and types of single-family homes for sale along with community amenities and events that are particular to this locale. Waterfront homes and beach houses range in price from $300,000 to the millions. Two very popular subdivisions in Pensacola Beach are Villa Segunda and Villa Primera. Villa Sabine surrounds Little Sabine Bay. Santa Rosa Villas and Calle Hermosa are to the east, and to the west are Lafitte Cove and Deluna Point. There are beautiful luxury communities between the sound and the gulf, public, gated and private.
When looking for a beachfront house or condo, it is important to give us a call and tell us what you have in mind. The Realtors at Emerald Coast Realty have the knowledge, experience, and tools that help buyers find the perfect home on Pensacola Beach.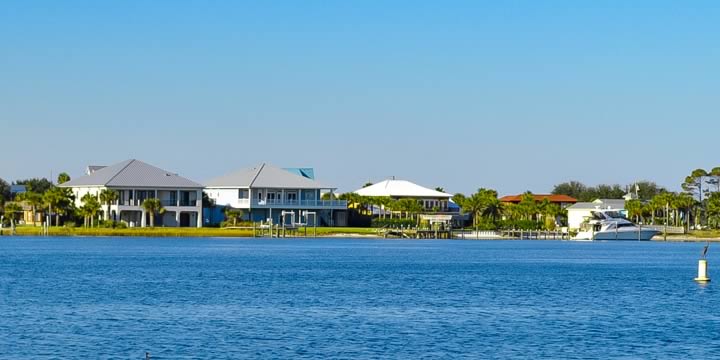 About Pensacola Beach
Pensacola Beach occupies about nine miles of the Florida Gulf Coast at the western end of Santa Rosa Island. This is one of the most picturesque and visited beaches in Florida. Located at the west end of the beach is the historic Fort Pickens. This is part of the Gulf Islands National Seashore Park system.
Vacationers find hotels, beach houses, restaurants, bars and recreation rentals to enjoy their stay. Relax in a beach chair with an umbrella that is available on the beach for a nominal fee.
Pensacola is a sports enthusiast's dream with fishing, Jet skiing, parasailing, surfing, swimming, charter boat fishing, sailing, motor boating, camping, diving, and hiking. The entire family can spend time together going to the small beach shops, boutiques, galleries and parks all in a friendly casual atmosphere.
Buying on Pensacola Beach?
If you are interested in buying a home or condo on the beach, contact Emerald Coast Realty and an agent will promptly follow up with you to provide particulars on any property or arrange a viewing, 850-437-5618.
Take a look at this "Seventh Heaven" updated and beautifully furnished two bedroom GULF FRONT condo at Emerald Isle on Pensacola Beach. The furnishings and finish out ar...
2

Beds

2.0

Baths

527151

MLS

Emerald Isle

Bldg.
Watch the Fireworks from your balcony in this furnished 14th floor condo. The quiet sound view is breathtaking. You can also see the beautiful sunrise and sunset all Su...
2

Beds

3.0

Baths

527148

MLS

Portofino

Bldg.
This is the Coastal Retreat you've been looking for! This unit was showcased on HGTV on the hit show BeachFront Bargain Hunt. Located on beautiful Pensacola Beach, this 2...
2

Beds

2.0

Baths

526848

MLS

Baywatch

Bldg.
Welcome to Beach Club Resort, the premiere destination on Pensacola Beach. 1404 is a sophisticated and stylishly furnished three bedroom home featuring unfettered views o...
3

Beds

3

Baths

786498

MLS

Beach Club

Bldg.
Welcome to Beach Club Resort, the premiere destination on Pensacola Beach. 1404 is a sophisticated and stylishly furnished three bedroom home featuring unfettered views o...
3

Beds

3.0

Baths

526767

MLS

Beach Club

Bldg.
A Gulf-front architectural icon with a timeless Resort Flair, Beach Club is not only known for its beauty, but also the quality of construction. The all-concrete structur...
3

Beds

3.0

Baths

526700

MLS

Beach Club

Bldg.
Unobstructed Gulf and Bay views! Enjoy sunsets every night from your balcony. You have the Gulf of Mexico view looking down the Island with endless Bay Views. Some upgrad...
2

Beds

3.0

Baths

526607

MLS

Portofino

Bldg.
ELEGANCE! That's the only word to describe this beautiful west facing corner unit at Sans Souci! Views of the Gulf and Sound. Unit overlooks the pool so you can watch y...
2

Beds

2.0

Baths

526549

MLS

Sans Souci

Bldg.
The Pensacola Beach lifestyle is easy to achieve in this beautiful, three bedroom condominium overlooking the shimmering Gulf of Mexico. Just steps away from the Gulf and...
3

Beds

4.0

Baths

526538

MLS

PORTSIDE CONDO

Bldg.
Pensacola Beach is yours in this contemporary condo overlooking the sparkling sound side of the Gulf of Mexico. This nicely fully furnished upstairs unit opens into a foy...
2

Beds

2.0

Baths

526466

MLS

Palm Beach Club

Bldg.
Unobstructed views of the Gulf from this upscale contemporary, two story unit. Maple flooring in living areas and bedroom . Balcony over looking Gulf views from living ...
2

Beds

2.0

Baths

526289

MLS

Palm Beach Club

Bldg.
The elegance and opulence of great living is nestled on a barrier island between the sugar white sandy beaches of the Gulf of Mexico and the pristine Intracoastal Waterwa...
2

Beds

3.0

Baths

526122

MLS

PORTOFINO

Bldg.